The High pressure systems:
100L R 9 490 Incl.
200L R 15 030.00 Incl.
300L R 21 985.00 Incl.
100L 5 Year Warrantee R 12 280.00
200L 5 Year Warrantee R 20 510.00
200L 5 Year Warrantee Stainless Steel R 21 520.00
300L 5 Year Warrantee R 30 990.00

With this system the complete geyser is under pressure to supply high pressure hot water without the use of a heat exchanger coil. The vacuum tubes have a copper rod inside to transfer the heat to the high pressure tank.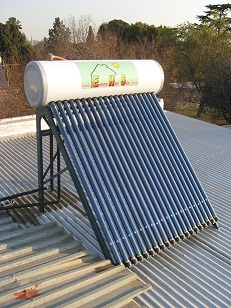 Note:
All geysers tanks are made of stainless steel and carry a 2 year warrantee. They can be fitted with a backup electrical element.

Discount is also applicable on a combination of different systems and will be calculated on total purchase value.